#4 | Flood protection by diversion
Flash Flood – Torrential floods: protect a facade, the entrance to a street, divert the flow to a neutral zone
It is often more effective, simpler and cheaper to install a flexible flood barrier along an entire facade rather than several individual door barriers, watertight doors, built-in gates or sandbags.
The Water-Gate anti-flood dam does not require any site preparation, additional equipment or fixed installation likely to harm the appearance of the site.
Recurring torrential floods in central England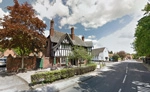 171-173 Main Street
Woodborough, Nottingham NG14 6DD
53.023481, -1,052563
| | |
| --- | --- |
| Hazard | Recurring flooding in a village, "water flowing down the main street" |
| Length deployed | 15,2 m |
| Equipment | WL 1450 barrier (one roll)/td> |
| Protection height | 35 cm |
| Deployment | 15′ |
| Assembly | Supported by 2 walls facing each other |
| Location | Woodborough / UK |
Water-Gate flood protection fits any kind of terrain: mounds, ditches, pavements, stairs, garage entry ramps, etc. The terrain does not have to be flat.
Water-Gate can pass over obstacles. The pressure of the water on the fabric forces it to cling to the object, thus avoiding leaks.
The Water-Gate flood barrier can be curved at any point and in any direction.