"Our goal is to make Water-Gate the go-to flood response"
Our story begins in 1998. After observing the consequences of a large-scale flood in Manitoba, Daniel Déry, an industrial designer, began to contemplate the idea of using the awe-inspiring force of water itself to prevent flooding, a little like the concept behind many martial arts.
He therefore designed a carefully calibrated system of tarpaulins into which the floodwater naturally flows like air inflating a parachute, thus anchoring the dam to the ground. His prototype was called WaterGate.
After laboratory trials, the first dams were manufactured in the summer of 1998. In 1999, Daniel Déry founded MegaSecur to develop his flagship invention: the WaterGate© flood dam. It was an instant success. WaterGate© won a dozen international accolades, above all in North America.
Thanks to years of research and field testing, MegaSecur has developed crucial expertise in the field of flooding and works tirelessly to develop a range of increasingly efficient products. We continue to widen our scope and expand our range.
The WL range targets water level rises, floods and land pollution.
The WA range is dedicated to river works and the creation of non-standardised suction points on watercourses.
The WT range is designed to combat river pollution.
Water-GateTM products are 100% made in our factory in Victoriaville, Quebec.
At the beginning of 2011, Nicolas KLEIN and Pascal KLEIN founded MegaSecurEurope to ensure the development of Water-Gate products in Europe.
The aim was also to combat copying and counterfeiting. Water-Gate products are illegally copied, posing a serious risk to the safety of property and people.
The distribution network expanded, and Water-Gate was rolled out worldwide.
In 2015, Water-Gate was tested for several weeks by the US Army Corps of Engineers. Water-Gate was certified by FM Approvals, a world leader in property loss prevention.
MegaSecur increases its production capacity in Victoriaville, Quebec in order to become more reactive and respond to growth.
MegaSecur.Europe wins the 9th edition of the "SME Trophies let's move" in the category "Creative Enterprise"
Read more
MegaSecur.Europe | FT 1000 ranking of the most dynamic companies in Europe
Read more
Nicolas, an environmental engineer by trade, discovered Water-Gate during an exercise as a volunteer firefighter. Nicolas' goal is for all the responsible European authorities, manufacturers and individuals at risk of flooding to consider making Water-Gate part of their prevention system. Since 2010, he has devoted all his time and energy to developing Water Gate in Europe.
Pascal, a graduate of ESSEC Business School and ENSIA's engineering programme, has played a key role in the development of major international brands in various sectors. Formerly an officer of the Paris Fire Brigade, his previous role with the firefighters left him with a keen sense of risk prevention and a desire for continuous operational improvement.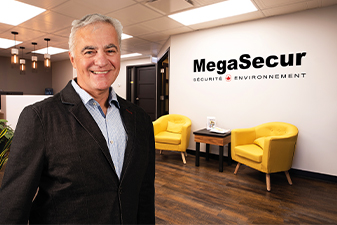 MegaSecur Corporate Office