Is the Water-Gate© cofferdam for your project?
Water Works – river – channel – pond
On concrete, we recommend using the WL© range with ballast integrated rather than the WA© range of cofferdams.
Sandy bottom, it is imperative to bury the leading edge of the water barrier to limit the hydraulic piping erosion effect.
Seepage under the cofferdam depend on soil type and height of retained water. The seal can be improved by slightly burying the leading edge of the dam.
The filling operation of the cofferdam in water depends on the current strength.
The stronger the current, the more people are required to coordinate the impoundment of the dam.
The strengths of the flexible Water-Gate© cofferdam
Cofferdam Installation Perpendicular to the Water Courses
Landfill work in river – Excavation – Block a river arm – Total river dam – Canal dredging work – Culverts dewatering – Renovation and locks maintenance
This is the fastest and most spectacular setup. Cofferdam pressurization is instantaneous.
Water-Gate© fits all river beds: thanks to its exceptional flexibility, the cofferdam follows the banks and the stream bottom no matter its relief.
Water-Gate© offers an excellent sealing due to the pressure that the water exerts on the bottom canvas.
In low slope, it is recommended to set up two cofferdams upstream and downstream of the dry zone.
U Cofferdam | Installation Parallel to the Water Courses
Repair or renaturation of river banks – Piping – River diversion – Dry work on bridges, culverts, dams, mills, fish passes, other hydraulic structures
This is the installation that should be used for water works that use only a section of the river and can not be completely blocked.
The Water-Gate© cofferdam can be bent in all ways and all directions : ideal for the rehabilitation of banks! Water-Gate© is effective no matter the length. It can be extended at will.
Cofferdam Free Installation in Sleeping Waters
Dredging ponds – low water velocity channels – Port works – Swamps
The Water-Gate© cofferdam can be bent in all ways and all directions: ideal for draining a pond in the desired path.
Water diversion – Evacuation – Downstream Piping
Thanks to the flexibility of the Water-Gate© cofferdam, it is possible to integrate without leakage any type of pipe directly over the dam.
Megasecur™ has also developed a dedicated spillway for small evacuations (90 liters per second), ecological, without pump, with a hose to drain water downstream. Several spillways can be positioned side by side if necessary.
Spillway installation maneuver
The spillway or Le déversoir or transition pipe is in two parts: the spillway itself and the main flexible tube. Very easy to handle. Set by one person in few minutes.
WA : A Complete Range Of Flexible Cofferdams for Professionals
Unlimited lengths and anti flood protection heights of up to 1.5 meters !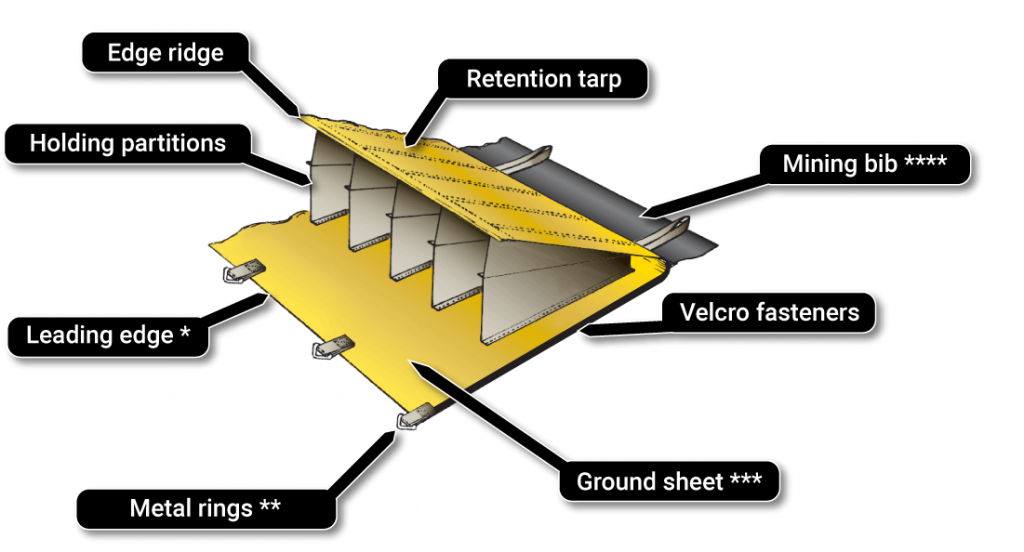 Features:
*       Cofferdam designed without ballast: the flexible leading edge fits perfectly uneven ground
**     Exclusively for implementation in backwaters
***   A deep ground sheet that facilitates pedestrian passage and pumping without risk to the hoppers
**** Limit the risk of erosion especially on sandy bottom in case of overflow


| Model | Height | Length | Weight |
| --- | --- | --- | --- |
| WA 2115 | 53 cm | 4,6 m | 12 Kg |
| WA 2130 | 53 cm | 9,1 m | 23 Kg |
| WA 2150 | 53 cm | 15,2 m | 38 Kg |
| WA 2815 | 71 cm | 4,6 m | 18 Kg |
| WA 2825 | 71 cm | 7,6 m | 30 Kg |
| WA 2835 | 71 cm | 10,1 m | 41 Kg |
| WA 2850 | 71 cm | 15,2 m | 57 Kg |
| WA 3930 | 100 cm | 9,1 m | 75 Kg |
| WA 3950 | 100 cm | 15,2 m | 124 Kg |
| WA 5050 | 130 cm | 15,2 m | 158 Kg |
| WA 6030 | 150 cm | 9,1 m | 114 Kg |
| WA 6050 | 150 cm | 15,2 m | 182 Kg |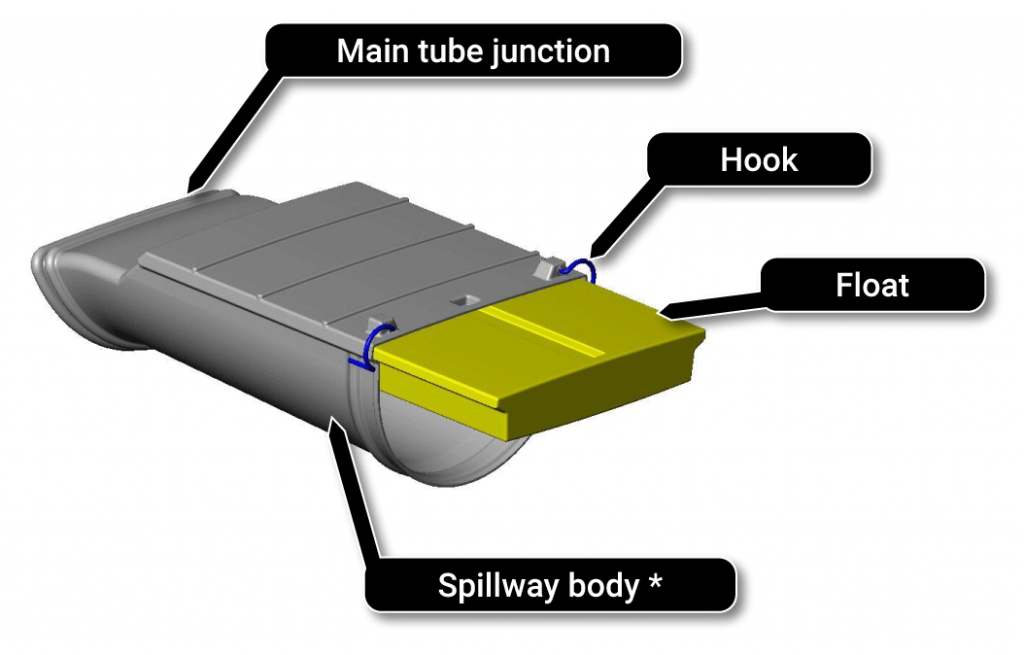 *   unbreakable polyethylene
Spillway
Dimensions
38 cm x 61 cm x 100 cm
Weight
14,5 Kg
Diameter
45 cm
Main tube
Length
22,7 m
Weight
11,4 Kg
Diameter
45 cm