The flexible dams in our WT range are light and quick to install. They help to block pollution or create a mobile suction point, regardless of the river's profile.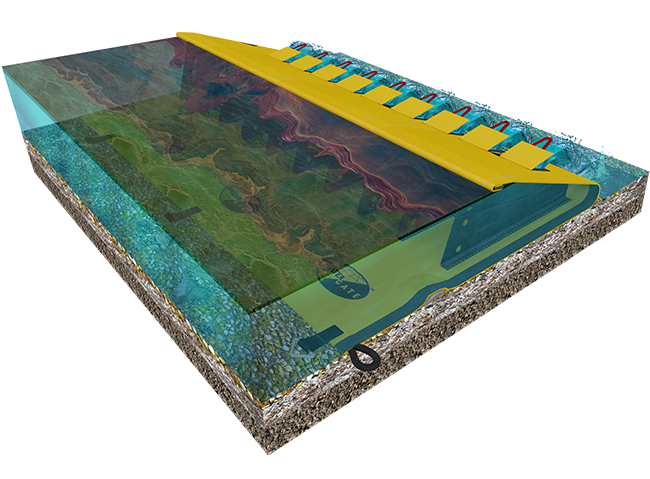 Anti-Pollution
Trap pollution before it spreads
The Water-Gate© anti-pollution dam features openings at its base that can be operated to let clean water flow through. The pollutant is therefore confined to the surface, where it builds up for long enough to be treated. The release holes can be opened or closed during use.
Fire defence
A better way to use natural water points
Our flexible dams allow pumps to draw from the entire hydrographic network: rural areas, mountains, and even around forest fires. The smallest brook, stream or river becomes a firefighting reserve that can be mobilised by firefighters. A 10 l/s trickle of water is enough to quickly supply 2 fire hoses.
1
IMPLEMENTATION
Unroll the dam across the watercourse with the leading edge facing upstream. Centre it, ensuring that the ends reach the banks. Unfold it.
2
IMMERSION
Immerse the leading edge to the bottom of the water. Stand on the leading edge until the dam becomes pressurised.
3
BALLAST
Weigh down the leading edge with ballast bags or stones from the watercourse.
4
RELEASE HOLES
Open the holes as required to control the water level and trap surface pollution. Closed position for suction operations.
Benefits
Ready to use: Emergency Response Plans (ERPs), disaster management plans, Carriage of Dangerous Goods (CDG).

Lightning-fast installation as close as possible to the pollution.

Self-locking: no anchorage required.
12 hours of guaranteed chemical resistance.

Mechanical resistance: highly abrasion and tear-resistant material / secure stitching.

Temperature resistance: +50 °C to -40 °C without damage.
A single anti-pollution dam for dense or floating pollutants.

100%-efficient in any type of watercourse: narrow width, shallow draught, rocky bed, etc.

Make better use of natural water points without the need for new land-use planning.

No need to always use drinking water to extinguish fires. DECI: French decree no. 2015-235 of 27th February 2015 regarding exterior fire protection.
Optimise existing resources
Broadens the operating area of mobile emergency units.

Compact: fits alongside all types of machinery.

Faster emergency response.

Helps to reduce costly investments in tanks/reservoirs.

A small investment with a big return in terms of water capacity.
WT: a full range of flexible dams for river aid

Features:
* Cofferdam designed without ballast: the flexible leading edge fits perfectly over uneven surfaces
** Only for installation in standing water
*** Deep ground sheet that facilitates pedestrian passage and safe pumping for chutes
**** Limits the risk of erosion in the event of overflow, especially on sandy beds

2019-09-02T10:07:59+01:00
Ballast net designed to be hooked to the dam with the leading edge attachment rings.
2019-09-02T10:43:06+01:00
Hold back floating pollutants and let clean water pass through.
Maximum release flow can be configured when ordering.
2019-09-02T12:18:04+01:00
MegaSecur has developed a tailor-made spillway with a flexible hose (DN 450) to evacuate the floating pollutants.