The flexible dams in our WT range are light and quick to install. They help to block pollution or create a mobile suction point, regardless of the river's profile.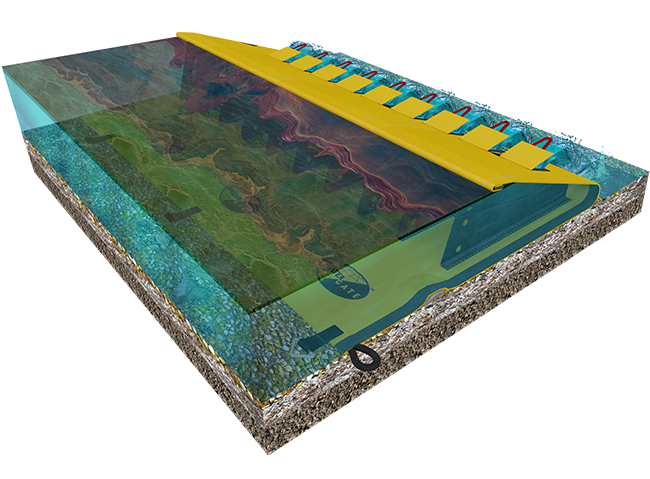 Anti-Pollution
Trap pollution before it spreads
WT series (with release holes)
The Water-Gate© anti-pollution dam features openings at its base that can be operated to let clean water flow through. The pollutant is therefore confined to the surface, where it builds up for long enough to be treated. The release holes can be opened or closed during use.
Fire defence
A better way to use natural water points
WT series or
WA series

(without release holes)
Our flexible dams allow pumps to draw from the entire hydrographic network: rural areas, mountains, and even around forest fires. The smallest brook, stream or river becomes a firefighting reserve that can be mobilised by firefighters. A 10 l/s trickle of water is enough to quickly supply 2 fire hoses.
Release holes, closable
Control the discharge flow of clean water. WT barriers are supplied with closable release holes.
To avoid surface pollution overflowing, a stable height must be maintained upstream of the dam. Open the required number of release holes at the foot of the dam in order to maintain a stable level.
It is possible to open and close the release holes during use by simply applying pressure to the hatch.
Diameter: 4.5 " (11.4 cm)

Operated by Velcro straps, allowing the holes to be opened and closed during use

The directional valve held in place by straps directs the flow directly onto the anti-erosion flap to facilitate the operation and protect the river bed
Number of release holes per barrier

WT-2825 | 14 release holes

WT-2835 | 24 release holes

WT-2850 | 39 release holes

WT-3930 | 19 release holes

WT-3950 | 39 release holes

Custom manufacturing for WT-50 and WT-60 models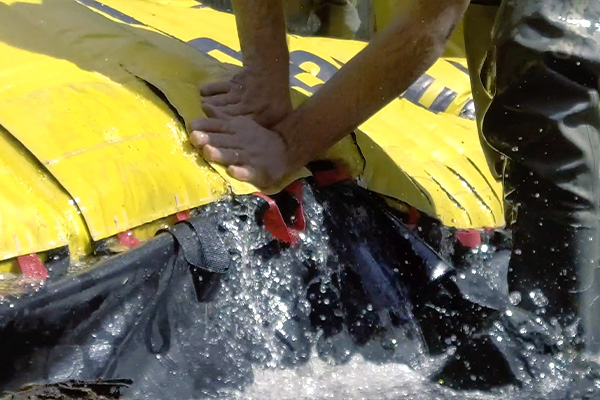 WT: a full range of flexible dams for river aid

Features:
* Cofferdam designed without ballast: the flexible leading edge fits perfectly over uneven surfaces
** Only for installation in standing water
*** Deep ground sheet that facilitates pedestrian passage and safe pumping for chutes
**** Limits the risk of erosion in the event of overflow, especially on sandy beds

Ballast net designed to be hooked to the dam with the leading edge attachment rings.
MegaSecur a développé un déversoir sur mesure avec un tuyau souple (DN 450) pour l'évacuation des surnageants vers l'aval.
Attach the absorbent tubes. Optional attachment line. Supply of specially designed oleophilic products.