#2 | Marine submersion protection
La Rochelle Vieux-Port: removable collective flood protection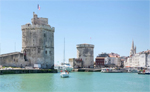 13-38 Quai Duperré
17000 La Rochelle
46.158099, -1.152601
| | |
| --- | --- |
| Flood hazard | Risk of submersion by overflow on the quays during a short-term hazard such as Xynthia + 20cm |
| Installed length | 812 meters |
| Equipment | 57 Water-Gate © flexible dams pre-attached in 8 rapid deployment boxes |
| Maximum protection height | 6 different heights up to 127cm |
| Implementation | 5 hours with 5 people |
| Mounting | Close protection of issues all around the Old Port by retaining the Maubec Canal expansion area. West section lean against the wall on the Chain Tower side to the discharge channel. East section resting on an aluminum cofferdam to the discharge channel. |
| Location | La Rochelle | Charente-Maritime | France |
Specifications
Complete for the emblematic sector of the Old Port the mixed dyking system already carried out on 2138 ml which protects the other districts.
The complexity of the Old Port of La Rochelle from a heritage point of view, uses or landscape integration effectively excludes permanent installations and systems using deep anchors.
The proposed system must be able to adapt to changes in the roadway and pedestrian paths.
The type of protection offered must be at least as efficient as the other types of protection (whether fixed or removable).
The implementation constraints are extremely demanding. The means of intervention of the Agglomeration and the city are limited and largely mobilized by the installation of removable aluminum cofferdams.
Withstand winds of over 100 km / h.