Mobile spillway | Pollution evacuation downstream
MegaSecur has developed a tailor-made spillway for lightweight discharge (DN 450 / up to 90 litres per second). With no pump, it is environmentally friendly and features a flexible pipeline for downstream discharge.
Several spillways can be positioned side-by-side if necessary.
The spillways are provided with a 22.9-metre polyethylene tube.
DA-1200 | Spillway Kit +main pipeline
Spillway
Dimensions
38 cm x 61 cm x 100 cm
Weight
14,5 Kg
Diameter
45 cm
Tube principal
Length
22,9 m
Weight
11,4 Kg
Diameter
45 cm

*   Unbreakable polyethylene.
DR-3075 | Extension tube
Extension tube
Length
22,9 m
Weight
11,4 Kg
Diameter
45 cm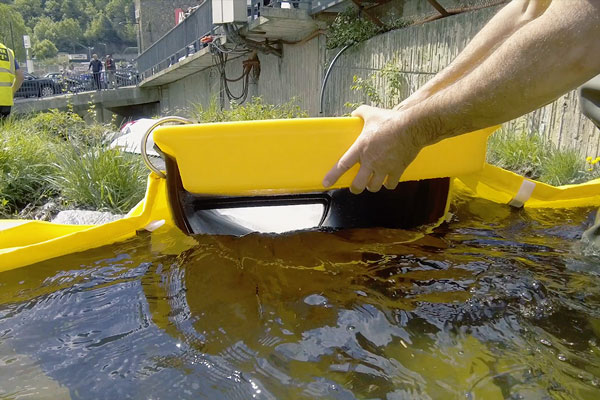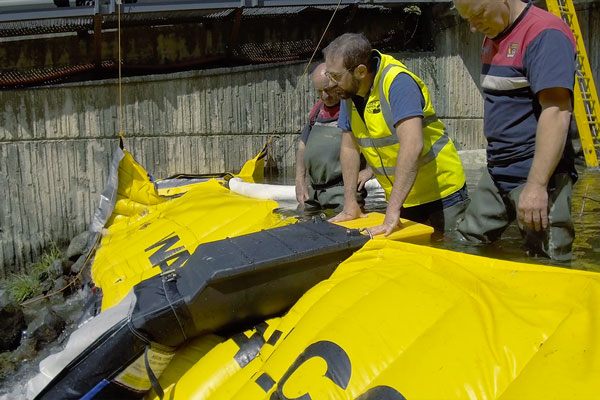 Ballast net designed to be hooked to the dam with the leading edge attachment rings.
MegaSecur a développé un déversoir sur mesure avec un tuyau souple (DN 450) pour l'évacuation des surnageants vers l'aval.
Attach the absorbent tubes. Optional attachment line. Supply of specially designed oleophilic products.